Introduction
In the previous blog on the energy transition, we discussed the macro forces that are driving change across the energy industry. In all practical scenarios it is accepted that, while the future energy mix is changing, fossil fuels will retain a share of between 40 and 60% of the overall energy footprint by the year 2050.
Other challenges oil and gas businesses face include lower commodity prices, a higher cost of capital investment, and an increasing focus by investors and employees on ESG initiatives to reduce the operational carbon footprint.
These challenges are necessitating that companies transform their business to maintain a laser focus on efficiency to operate within cash flows. A key component of this transformation is the accelerated adoption of digital technology to automate business processes, reduce risk, and drive competitive differentiation through advanced data analytics.
In this post on digital acceleration in oil and gas, we discuss:
The current state of technology adoption
Key initiatives that companies are undertaking and whether these should be considered a process of transformation or modernization
Benefits of accelerating digital adoption and lessons learned from experience
State of the Industry
There has been a tremendous amount of discussion about the digital transformation of the oil and gas industry over the last few years. Indeed, over 86% of CEOs identified digital as their number one priority for investment. Based upon the Quorum Software study Modernizing Oil and Gas: Insights on the State of the Industry, 96% of IT decision makers believe that better use of technology can transform a laggard industry.
"In the next 3-5 years, the companies that embrace digital technology will emerge as the leaders."
-Gartner group.
However, there is no guarantee digital initiatives will be successful, and a recent McKinsey study indicated 70% fail to deliver the expected results. In this section, we discuss some of the key reasons for this failure and why we should expect things to be different moving forwards.
Digital Transformation
The term, digital transformation, tends to be overused and, as such, it means different things to different people. In its essence, however, it is the transformation of business activities, processes, and workflows to fully leverage the changes and opportunities of digital technologies to deliver a better and more efficient organization.
"Digital transformation is a process, not a destination. It is a fundamental reshaping of an organization's culture that reorients it around the customer experience, business value, and constant change."
-Sean Carnahan, Energy and Commodities Solutions.
The process of digital transformation is not new and, in their book 'A Digital Journey: The Transformation of the oil and Gas Industry', Cooper and Crompton make the case that we are in the second phase of the digital transformation. The first phase was characterized by the digital oilfield of the future where operators first attempted to integrate disparate operations and data silos to improve efficiency and lower risk. The second phase, the authors postulate, was precipitated by the price crash of 2015 and is focused on big data, analytics, and the Internet of Things (IOT).
The digital transformation can be broken down into distinct layers as illustrated in Figure 1, with each layer building on top of the previous. At the foundation is the need to capture master data across the enterprise and use this to integrate business knowledge in the form of validation, governance, rules, and workflows. This is where we manage the data and is the least exciting part of the digital transformation - but arguably the most important.
Once an effective foundation is in place, organizations can embrace the 'cool' part of the transformation by using advanced visualization and AI tools to generate business insights, analytics, and workflow optimization.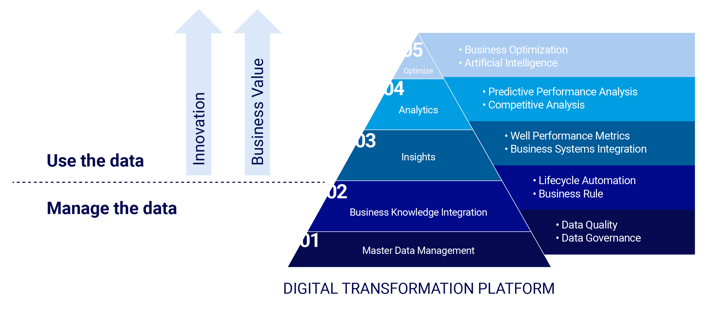 Figure 1: The Digital Transformation Platform
From the Quorum Software research, while operators recognize the importance of digital technology, they also recognize that the oil and gas industry is trailing other industries by a significant margin when it comes to implementation and adoption. At least part of the reason for this can be attributed to the fact that many large-scale digital initiatives have not been successful, resulting in a reluctance to invest significant funds.
Why do digital initiatives fail?
To answer this question, it is important to consider the different levels in the digital transformation pyramid illustrated in Figure 1. We can separate the pyramid into two sections, identified by the line in the diagram. Above the line is where companies are making use of the data to drive innovation and competitive advantages. Companies need their highly paid knowledge workers to be spending most of their time in this space. Below the line is where data is gathered and managed, providing the foundation for the above-the-line activities. Another way to look at this is that below the line represents costs while above the line represents value.
One of the primary reasons digital initiatives fail is companies want to jump straight into the cool work of insights and analysis without building out a strong data foundation. They rely upon advanced tools to make sense of the data but, as Jim Crompton is fond of saying, big data will not overcome bad data. Master data management is the platform for any enterprise digital transformation initiative; without this, the risks with such initiatives are increased significantly.
Another major contributor to the lack of success of digital initiatives is not having the right organization in place with effective change management processes. We have seen inconsistent results where responsibility for transformational initiatives has been assigned to an innovation group that is separate from the rest of the organization or embedded within IT. To combat this, many companies have created the position of Chief Digital (or Data) Officer that is independent of the IT organization and closely aligned with the business. This position is responsible for developing the digital strategy that is in full alignment with the business strategy.
While it is important to recognize that digital transformation is not just about technology, it does play a key role. The pace of change in the technology world is breathtaking and often overwhelming for companies trying to keep up with the latest trends to decide what is worth investigating. For example, if we look back 5 years ago, we faced physical and financial limitations on storage and compute that are much less of an issue today. These limitations contributed to the risk of digital initiatives and the industry responded slowly to these challenges compared to their peers. If we look at industries such as finance, retail, and manufacturing, they all faced their own challenges and were relatively quick to recognize the need for digital transformation through cloud and mobile technology combined with advanced analytics.
There are many lessons to be learned from collaboration with service providers that have been through the mill within other industries and also, as we shall discuss with peers in the same industry.
What is different this time?
Companies have recognized that they don't have much choice except to transform their business model, otherwise they will quickly get left behind and likely cease to exist in their current structure.
Based upon our research at Quorum Software, we believe the oil and gas industry is closing the gap on peer industries by focusing on the following key areas:
Data
Organization
Technology
Data is the Fuel
There is widespread recognition that data is the fuel that will drive the digital transformation; this has not always been true.
"Access to timely and accurate data enables us to respond to challenges in a timely fashion."
-COO Contrast Energy.
There is also recognition that organizations typically only use a small percentage of the data available to them.
"Based upon our research, we estimated that companies are using less than 10% of the data available to them and so we have focused our efforts on making sure that the data is not just available but is being used."
-Kang Chen, CIO Concho Resources.
As a result, there has been renewed interest in implementing enterprise master data management solutions and using these as the platform for integrating data across the organization. Luckily, lessons learned from the past mean companies will try to scale the mountain one step at a time. There are multiple domains across the typical organization, and it is not necessary to tackle these all at once. Successful companies phase MDM initiatives tackling one domain at a time. With experience as the guide, it is recommended that companies start with the well domain - as everything ties back to the well. Though it is also common to start with the financial domain and then build backwards.

Figure 2: Multiple Domains
The next post in this series will discuss master data management and best practices in more detail.
Organization
It is more important than ever to attract the brightest and best data managers, data scientists, and business analysts to organizations. Unfortunately, it is getting more difficult for oil and gas to attract this top talent due to societal pressures along with the boom and bust nature of the industry. Successful companies recognize that the millennial generation is often motivated by different things when they are considering work. Discussing this with an executive at a large independent, the following observation was made:
"Our parent's generation worked for one company for their whole life."
"Our generation will work for five different companies during their careers."
"The current generation will work for five different companies at the same time."
This requires changes to traditional working environments, compensation plans, training, and career planning. It necessitates a more forward-thinking HR department than typically seen at oil and gas companies (think Catbert the evil HR director from Dilbert).
It is worth noting that our research indicated innovation and technology adoption are not just the preferences of the new generation entering the industry. We heard from numerous companies that the more experienced crew are embracing change partly for self-preservation but also driven by a desire to perform work more efficiently. The upshot of this is that we are seeing significant innovation and successful adoption of digital technology to solve difficult problems.
The successful companies are the ones establishing the position of Chief Digital (Data) Officer with responsibility for defining a digital roadmap that is in full alignment with the business strategy. It is accepted practice now for the CDO to be independent of the IT department and fully embedded within the business.
Technology
The final differentiator that we discussed in our research are the incredible advances made on the technology front. The volumes of data generated for monitoring and analysis are increasing at an exponential rate. Fortunately, the tools to store, manage, and analyze this data in real-time have also advanced to where the challenges of 5 years ago can be resolved through cloud computing and its ability to scale storage and processing power dynamically. Additionally, compute costs are decreasing rapidly in accordance with Moore's law, reducing the financial requirements digitalization has on a company.
Looking to the future, we should anticipate technological developments to progress at least at the same rate, although in reality it is likely that they will accelerate. So what may be considered an issue today is unlikely to remain so for long.
In our research, we also discovered that the ability to work on the latest digital platforms is a prime motivator for people entering the industry. If companies don't keep up with technology, not only will it cause them to fall behind competitors but inhibit their ability to attract and retain the best talent.
The challenge for even the largest companies is that the pace of change can be overwhelming. According to Lee Hoder, VP Upstream Digital transformation at Shell, this is causing a cultural shift where they have recognized that they can't do everything themselves. Industry partnerships and competitive collaboration are a key part of their digital strategy. This includes supporting clusters of vendors working together in clusters to solve problems that they would not be able to address individually.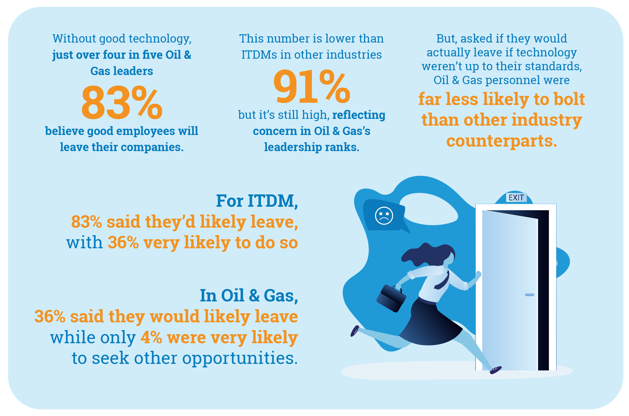 Figure 3: Technology Leadership
Transformation versus Modernization
There has been a tremendous amount of literature published about the digital transformation that is underway in the oil and gas industry. Most of this is focused on large companies with significant IT and data departments and the necessary resources to fund large scale projects.
In our research though, we found that smaller companies are equally investing in technology but are much more likely to pursue a strategy of modernization. We characterize this as a series of limited scope projects that are typically focused on automating manual processes. Each project in of itself is unlikely to make much of a difference to the overall performance of the business, but, in combination, they add up to make a substantial impact. The benefit of this approach is lower cost, lower risk, and higher visibility.
The modernization approach is still part of a well-defined digital strategy and is fully aligned with the overall business goals. One example is Titan Rock, who prioritized their digital journey based on the importance of streamlining functional processes. To survive in the future, they recognized they needed to be cutting edge and focus on the integration of business workflows. They looked at production operations first, then financials and accounting, and then the land function to ensure that they were building credibility by delivering on their goals continually. To read about this, see the Titan Rock E&P Profile in Modernization.
Likewise, at Contrast Energy, executives had experience with the value of technology from working at larger companies. They developed an approach to increase the efficiency of their operations and focus on those areas that would return the greatest ROI. See the Contrast Energy Profile in Modernization.
One of the advantages for smaller companies with their paths to modernization is that it is often easier to gain alignment and support to get initiatives off the ground.
Key Initiatives and Benefits
There is a great deal of consistency in terms of the digital initiatives that organizations are focusing on and the benefits they expect. The following are based upon extensive interviews with a wide range of oil and gas companies.
Cloud
In today's volatile energy industry, the need for cost-saving efficiencies and immediate access to information and insight has never been greater. All the companies that we spoke to indicated that migration to the cloud is at the core of their digital transformation. The benefits that they expect to realize include:
Lowering IT infrastructure costs: Companies that use cloud technology achieve workplace efficiencies, avoid business interruptions, and eliminate allocating resources to hardware and technology maintenance.
Breaking down operational silos: Cloud applications enable company-wide collaboration and cross-department access to centralized information to help users make informed decisions.
Future-ready software investments: Cloud applications are managed by the vendor, who, when done right, can easily add new functionality, fix bugs, and facilitate interoperability with other systems.
It is worth noting that the trend to cloud migration paid off handsomely over the last 12+ months during the pandemic that enforced remote working and collaboration.
IOT and Mobile technology
The cloud and smart devices are blurring the lines of where the back office ends and the field begins. As oil and gas pushes intelligence to the edge, optimization and cost controls are increasing and driving new revenue opportunities. Benefits include:
Lower maintenance costs: Access to device, well and meter telemetry will help companies predict downtime and control maintenance costs and needs proactively.
Field data in real time: Pushing data from smart devices in the field to the back office means decisions aren't stale shortly after they're made.
Optimizing assets: In addition to lowering maintenance costs, remote monitoring helps technicians and engineers tune assets to operate more efficiently.
Workforce collaboration: Mobile technology enhances collaboration between field and back-office personnel and enables managers to accelerate approvals and workflows. This was clearly evidenced through the recent pandemic.
Reducing risk: Automating data capture improves the accuracy and timeliness of field information that feeds business processes and ongoing operations.
Access to integrated, trusted data
Access to integrated data across the enterprise is increasingly recognized as crucial for digital initiatives. Most organizations we interviewed stated they have a corporate goal of providing the business with real-time access to a single source of the most trusted data.
Providing access to this data is a challenge the industry has experienced for many years due to the difficulty of breaking down the barriers that exist between functional data silos. The OSDU initiative as part of the Open Group is addressing this challenge by standardizing not just the format for storing and managing data but also the APIs for data ingestion and consumption. This addresses one of the big challenges with prior standards, such as the PPDM data model, where there was no consistency for how data was loaded into the model, making it difficult to develop interpretation applications.
There is tremendous support for the OSDU data model across industry and, while there are still challenges ahead, it shows great promise as a framework to deliver a single source of the truth. Quorum Software's EnergyIQ has been a part of the OSDU initiative from the early days and the cloud-based data management platform provides the cornerstone for any OSDU implementation.
Business Intelligence and Analytics
Business Intelligence (BI) and analytics have been getting a great deal of attention over recent years with the advent of sophisticated analysis tools, like Spotfire and PowerBI, and the emergence of AI as a mainstream technology. The appeal of these tools is that they deliver self-service analytics without the dependence on the IT department (think Mordac the Preventer the IT liaison from Dilbert). Business users can create sophisticated dashboards to monitor operations, e.g., the current status of wells across the company, see Figure 4.

Figure 4: Well Status Dashboard
At the risk of being repetitive, the success of these tools depends on having access to the right data. When this data is available, trusted, and up to date the benefits can be significant:
Optimizing operations: Data can improve understanding of field asset performance to find better ways of producing, processing, or transporting oil, gas and byproducts.
Reducing risk: Eliminating arduous processes that block progress or create redundancies can save costs and reduce errors.
Making quicker and better-informed decisions: Delivering data to users in a timely and contextually-relevant manner improves decisions and helps ensure all factors are considered when making decisions.
Democratizing access to insights: Supplying all users access to data and tools can accelerate business processes, improve operational agility and foster cross-department collaboration.
Preventing failure: Monitoring remote equipment performance to predict failure so that preventative maintenance can be performed.
While artificial intelligence and machine learning technologies are not widely adopted in the oil and gas industry, there are few doubts it will be a game changer in the future.
Measurement and KPIs
Benchmarking and KPIs are a natural extension of analytics and critical to keeping a finger on the pulse of any organization. According to Titan Rock CEO Robert Martinez, it is all about harvesting your data daily to support three key areas:
Better understand our assets and production.
Accurate comparisons of forecasts to actuals.
Improving action plans to make the best topline decisions.
It's all about accurate projections and planning – what did you say you were going to do, what did you actually do, and how big was the gap between those. It's a continuous cycle of improvement that allows companies to produce tangible reporting for their investors and demonstrate they are good stewards of capital. 
Acceleration
We titled this chapter acceleration rather than transformation because the rapid pace of change. Companies are in danger of being left behind if they don't accelerate their initiatives accordingly.
We can trace the beginning of the acceleration to 2015 when the industry experienced a significant and prolonged low-price environment. The adoption rate of digital technology varied widely, regardless of demographics.
When the COVID pandemic hit, companies were forced to react quickly to enable remote operations and collaboration. Projects that previously took months, or more likely, years to deploy had to be implemented within days and weeks. The experience demonstrated that much of the industry is able to respond quickly when required; those that did not have suffered and will find it difficult, if not impossible, to recover.
The pace of change is unlikely to slow even as we see signs that the pandemic is coming under control in some areas of the world. Pressure is increasing on companies to reduce their carbon footprint as we discussed in the previous whitepaper. This will involve significant investment in digital technology for measurement, monitoring, and continuous analysis as the penalties for non-compliance with new requirements and norms will likely be swift and steep.
Finally, there is the fact that digital technology in of itself is changing at a mind-numbing pace. The technology that is gaining acceptance today will likely be old in a few years. The companies that keep up with these changes and apply them pragmatically to solve their most difficult business challenges will be the ones that survive and thrive in the future.
Summary
There are huge benefits for companies that embrace a digital transformation strategy. Indeed, it can be argued that operators that are not headed down this path are unlikely to compete effectively and navigate the energy transformation that is in play.
It is important that companies don't try to short-cut their transformation by diving into the visualization space without building a strong data foundation; unfortunately, as with most things, you have to do the hard work first.
We also discussed the organizational aspects of the digital transformation. Having the right structure in place is one of the key success factors and one that does not get enough attention in the industry. Forward-thinking companies are investing in the right people and processes to generate excitement in the organization and propel their journey.
As we stated numerous times, it is not just about the technology. Yet we continue to see too many companies chasing the latest new toys and trends without a clear vision for the business problems they are trying to solve. They never seem to get ahead because as soon as they get one platform deployed, gain experience and understand the limitations, there is something newer, shinier, and faster that is the purported silver bullet to the challenges. The successful companies are those that have a clear end goal and path to get there that helps provide a context for making informed technical decisions, rationally evaluating the benefits of relevant technologies, and ensuring that the needs of the business are kept front and center. They are also establishing strong partnerships and collaborative relations with peers both within the oil and gas industry and outside.
Finally, it is clear that the pace of digital technology adoption is accelerating. The companies that succeed in a rapidly changing industry understand clearly how to solve key business problems with emerging technology and maintain the discipline to implement pragmatic solutions.
Learn more about EnergyIQ by Quorum Software or browse more resources to gain industry insights about technology trends from IT leaders.
---
About The Author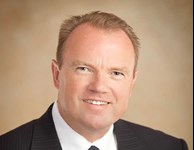 Steve Cooper is Vice President of Digital Strategy for Quorum Software with responsibility for researching the impact of industry and technology trends. Prior to its acquisition by Quorum in 2020, Steve was CEO and founder of EnergyIQ where he developed a sophisticated Well Master Data Management platform that supports critical decision-making at many oil and gas companies today. He is a past CIO of IHS Energy, Chief Communications Officer and Board Member with the PPDM Association and has additionally served on the Board of Directors for two publicly-traded gold mining companies.
Steve has been published in numerous journals and has presented at industry conferences on subjects including data quality, governance, master data management, analytics, and visualization. Recently, Steve joined the Data Analytics advisory board at Denver University and is an occasional contributor at the Colorado School of Mines.