Gas & Liquid
Measurement
Ensure data integrity with FLOWCAL, the industry leading solution for hydrocarbon, biogas, and carbon capture and storage measurement.
Increase Operational Efficiency

Streamline the measurement process with the most robust gas and liquid measurement data management system on the market. Ensure data integrity with a single source of truth for physical volume data to use throughout your organization.
250+
Configurable Validation Set Points
80%
North American Midstream
Operators Depend on FLOWCAL
25+
Years of Experience Exceeding
Oil and Gas Measurement Needs
Robust Validations and Configurable Set Points
Increase operational efficiency with the all-in-one oil and gas measurement software that reduces data management complexity through automation.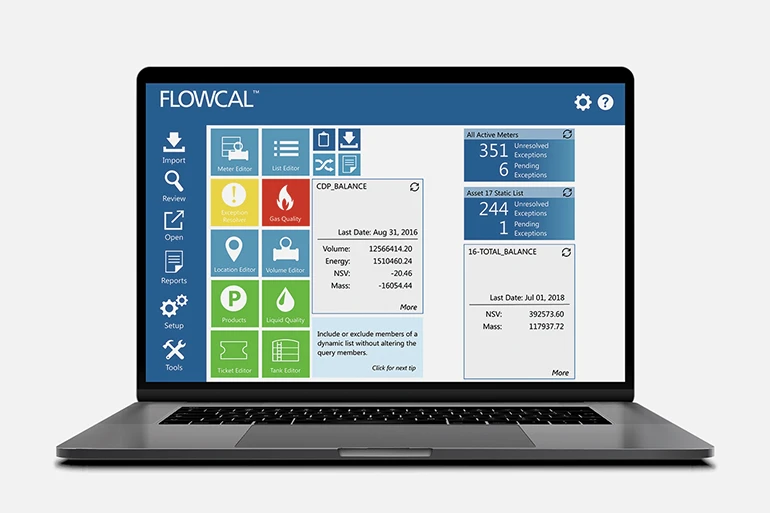 Features
Gas Measurement
Streamline measurement processes and decrease risk with an all-in-one gas and liquid measurement solution. FLOWCAL  provides a central source of information, clear data visibility, a clear audit trail, as well as the ability to track lost and unaccounted for.
Liquid
Use the most comprehensive gas and liquid  measurement solution in the industry to ensure data integrity. With FLOWCAL, you can easily manage inventory, efficiently handle system balancing, and manage source quality.
Validation and Exceptions
Ensure hydrocarbon measurement data integrity with set validation parameters that allow exceptions to be identified and resolved in a timely manner to produce the most accurate data set.
Flow Assurance and Integrity Management
Receive operational indicators in one data platform, enabling KPI reports and system risk monitoring.
System Balancing
Balance systems at the product and component levels for all natural gas and liquid transactions with a solution that includes hierarchical results display, allowing users the most flexibility when researching gain/loss data.
Superior Reporting Capabilities
Automatically send gas and liquid volume statements to your customers on a timely basis to improve customer satisfaction.
Regulatory and Compliance Standards
Maintain compliance with BLM regulations and utilize all the liquid and gas industry calculation standards of the AGA, API, and Measurement Canada. All data changes are automatically logged, while preserving original data to meet audit trail standards.
Don't Let Inaccuracy Be a Liability
Learn how to achieve accurate measurement quickly and more reliably with Quorum's top 5 tips to streamline your gas and liquid  measurement processes.
Benefits of Gas & Liquid Measurement
Ensure Accountability
Manage all your oil and gas measurement data with a process that allows you to easily validate field data. Identify suspect data and flow anomalies to maintain data certainty.
Drive Efficiency
Collect and process oil and gas measurement data quickly and accurately in order to produce the best available volumetric and measurement information in the industry.
Automate and Simplify Workflows
Automate data consolidation between different fields and labs. Also streamline processes with scrubbed data, combined into one usable and report-capable database.
Minimize Risk and Ensure Compliance
Stay current with ever-changing regulatory and compliance standards, including BLM, AGA, API and Measurement Canada.
Measurement Services
Coastal Flow has been the leading provider of hydrocarbon and liquid measurement services for nearly 50 years. Coastal Flow services combined with the power of FLOWCAL help companies maintain an accurate, cost-effective, and efficient measurement program from field to office. See how Coastal Flow can help improve the quality of your measurement data.
Learn More
API MPMS Chapter 11.1
API MPMS Chapter 11.1 is the established industry standard, outlining the procedure for crude oils, liquid refined products and lubricating oils for the correction of temperature and pressure effects on density and volume of liquid hydrocarbons. Purchase today from Quorum Software, the only authorized reseller worldwide.


Learn More
Field Tech Applications
Connect the field to the office with a robust suite of field measurement tools to efficiently manage gas and liquid meter inspections, samplings, and calibration events.