Pipeline Transaction
Management
Quickly adapt to changing market conditions with automated processes and access to real-time data for real-time decision making using My Quorum.
Everything You Need From One Source
Maximizes your team's throughput by managing interrelated business processes for gas pipelines.
Features
Pipeline Management
Maximize capacity, manage imbalances, and maintain regulatory compliance with real-time transactional information.
Accurate Invoicing
Providing the ability to store rate information and generate accurate monthly invoices.
Measurement
Reduce data management complexity with all-in-one measurement that collects and scrubs data to produce quality output.
Customer Portal
Increase customer satisfaction and streamline shipments with an all-in-one portal for shipper/operator interactions.
LDC Contract and Deal Management
Simplify contract or deal entry, and confirmation processes with automated workflow and delivery.
Regulatory Compliance
Maintain ongoing regulatory compliance with NAESB certified applications.
Own the Transportation Process
Drive efficiency, increase customer satisfaction, and improve decision making while minimizing risk with the most comprehensive transportation management software in the industry.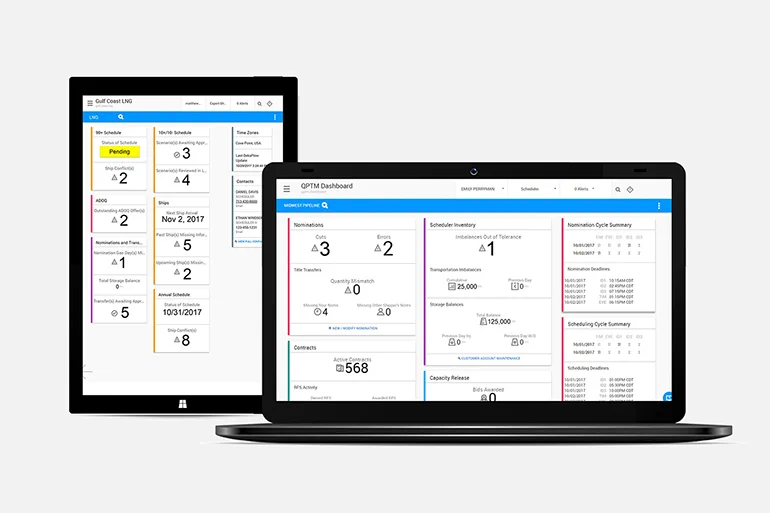 Benefits
Drive Efficiency
Reduce cycle times with automated processes. Access real-time data for scheduling, tracking inventory, prioritizing nominations, and adapting quickly to changing market conditions. 
Improve Decision-Making
Access real-time data through queries and reports to react quickly and make more informed business decisions.
Minimize Complex Data Entry
Make data entry for historically complex or regulated features—such as capacity release and request for service — easier by condensing dozens of fields into easy step-by-step wizards or walkthroughs.  
Increase Customer Satisfaction
Streamline communications with our customer activity website for operators and shippers that empowers users to manage processes such as nominations, confirmations, and imbalances from one location.
Alliance Pipeline Fuels Growth with Technology
"My Quorum Pipeline Management is a comprehensive solution. We use almost every module the software offers and the application is able to cover all our commercial needs." 
Learn how Alliance Pipeline manages complex contracts across different service types with thousands of rates and scheduling scenarios.