Oil and Gas
Document Management
Drive operational performance and efficiency with Dynamic Docs, a comprehensive oil and gas document management solution for better decision-making across well, land, A&D, acquisitions, trades, and more.
Eliminate the Document Chaos
Improve collaboration and organization with access to all your land, accounting, and well files with Quorum's centralized oil and gas document management solution.
60%
Time Reduction in Looking
for Well Information
60%
Faster Onboarding of
New Asset Information
20%
Reduction in IT
Support Requests
Features
Smart Search Technology
Locate information quickly and accurately by narrowing search results based on attributes, document tags or key phrases. Customize search experience based on user roles.
Quorum Product Integrations
Integrations with various Quorum accounting, Land and Well Operations provides a rich set of cloud-based document management capabilities for users of these systems.
Advanced Security
Multiple security and authentication levels keep your sensitive information safe. Provide the right level of access to the right users with configurable role-based permissions.
Virtual Data Room
Share documents and information with internal and external parties without having to make redundant copies.  Leverage our advanced security capabilities to control user access. 
Saved Searches
Save search criteria and re-run at any time to retrieve the most up-to-date search results.  Utilize your saved searches to rapidly build collections of documents needed for a project. 
Structured Taxonomy
Be up and running quickly with rapid implementations using out-of-the-box industry proven taxonomies designed to support our smart search capabilities. 
Audit History
Improve visibility across the system. Easily track the lifecycle of a document to see what changes were made, when and by whom.
Quick File
Easily upload and OCR all files and metadata from an acquisition to quickly provide a searchable document repository for users. 
Document Version Management
Save multiple versions of the same document. Set any version to the current version viewable within the preview window. 
Cloud-Based Oil and Gas Document Management
Store, organize, and access all of your oil and gas documents online. With quick integration of each document, you can streamline acquisitions, trades, divestitures, and company-wide decision making.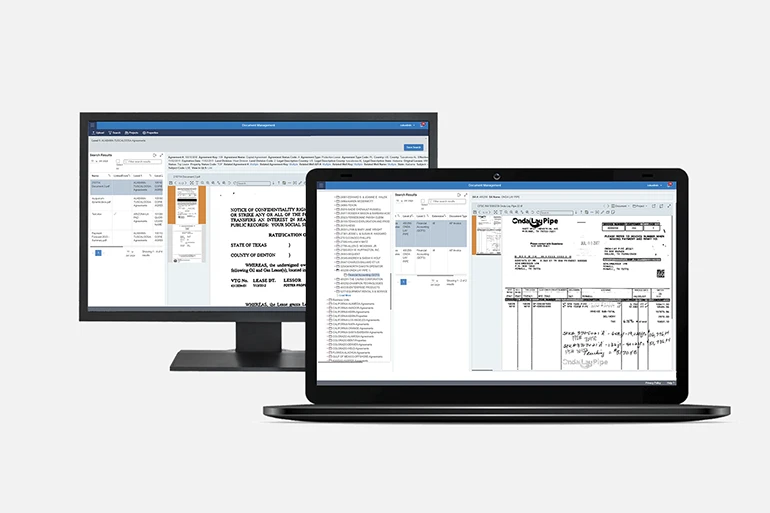 Benefits of Dynamic Docs
Simplify Document Storage
Through integration across multiple Quorum products and advanced security, Dynamic Docs serves as a holistic document repository to meet the needs of various departments and users. 
Streamline A&D Processes
Onboard new asset information 30-60% faster with fully searchable data. Quickly integrate unstructured information received during acquisitions, and when assets are ready for sale. Easily group documents based on search criteria to facilitate divestitures. 
Minimize Data Entry Time
Automate accounts payable input using our AI engine to extract key data from invoices and automatically enter into On Demand Accounting AP Workflow. 
Improve Collaboration
Keep documents organized and accessible to the right users at the right times.  Share documents and information with third parties for A&D, owner relations, and joint ventures while reducing risk and decreasing file duplication. 
Accurate Document Integration
Dynamic Docs uses business logic to identify keywords from files to label, organize, and integrate files.  Capture documents and related metadata across departments and gain a competitive edge. 
5 Tips to Take Oil and Gas Document Management Online
We've learned that to be agile and competitive in a digital environment, you need instant access to your documents no matter where you work. Read our essential guide to achieving complete control of your files with oil and gas document management.