Whatever your land profession may be (Landman, VP of Land, etc.), a key focus area is efficiency. You want to work smarter not harder and your tools should support your workflows to optimize your operations. If your software is outdated and not purpose built for land management, it may be slowing you down and putting your organization at risk. Does your land solution have what it takes or is it time for a change? 
Switching systems can seem like a daunting process, but it's easier than you think. Many companies have already made the leap to Quorum's land management system after being dissatisfied with their current system for far too long. I recently interviewed three different customers to understand why they switched to Quorum for land management and made some interesting discoveries. These three customers were all using the same land system that was originally designed for accounting, so it had several limitations. It lacked certain functionality needed for land management, and was using an outdated database and data model which made data entry, access, and reporting unnecessarily difficult. After hearing all of this, I wasn't as shocked to hear that each of the companies' main issue hinged on data integrity: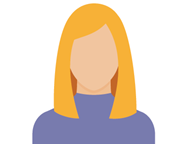 "With all of the efficiencies and data oversight that the system provided, we thought it was the best option to take us into the future."

-Large Canadian O&G Company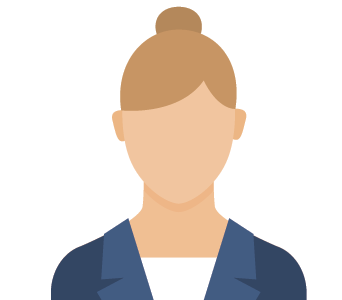 "With our previous software, we were very siloed in our leasehold division, and we were using an outdated application for reporting. When we saw Quorum's mapping and reporting capabilities, we knew we had to switch."

-Colorado O&G Company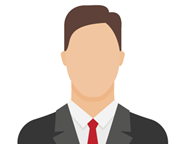 "It wasn't user friendly for contracts and land tracking."

-Denver-Based O&G Company

With oil and gas technology continuing to advance, land software needs to keep pace so you stay ahead of the curve. An outdated, accounting-based land system forces manual workarounds, complicates data access and reporting, and inherently isn't built for land management.
So ask yourself:
Is your land system comprehensive and purpose-built for land management?
Your land software should be purpose-built for land management with comprehensive functionality designed for an efficient workflow. You need comprehensive and purpose-built land management software with all the functionality needed to manage tasks efficiently. One example is managing all types of land agreements, as shown in the image below.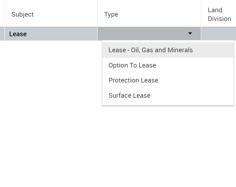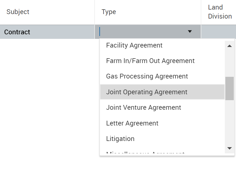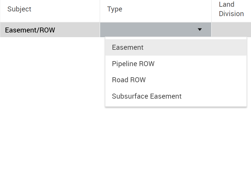 As the Denver-based oil and gas company above pointed out, an accounting-based land solution isn't user friendly for land tracking and contracts. The more types of agreements that your land system doesn't support, the more manual workarounds and cross referencing you will have to do, which only increases risk.
Speaking of agreements and tracking ownership, a purpose-built land system, like myQuorum Land, allows you to track your ownership by depth formations as shown below. This is vital when performing valuations during divestitures and can actually result in increased valuations with the calculated ownership report that shows the exact formations and measured depth.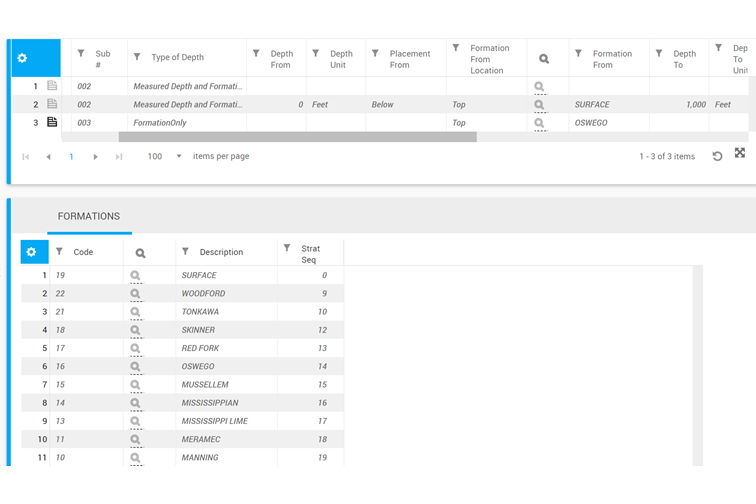 Without this functionality, you could end up spending multiple 12-hour work days manually cross referencing this information, which increases risk of error. A new customer recently mentioned this exact issue occurred during a divestiture in their previous system. 

Bottom line, you need land software that handles all aspects of a leases' lifecycle effectively.
Does your land system have good data entry, access, and reporting?
An outdated data model with many freeform text fields delays data entry and makes data access and reporting extremely difficult. For example, let's say you have a few leases with a Pugh Clause provision. If this is stored in an open remark field, it's unlikely that it gets pulled into your report which forces you to double check them and again increases your risk of error.

A land system that is built on a standardized data model with stricter fields and dropdowns, as shown below, ensures report accuracy based on trusted data.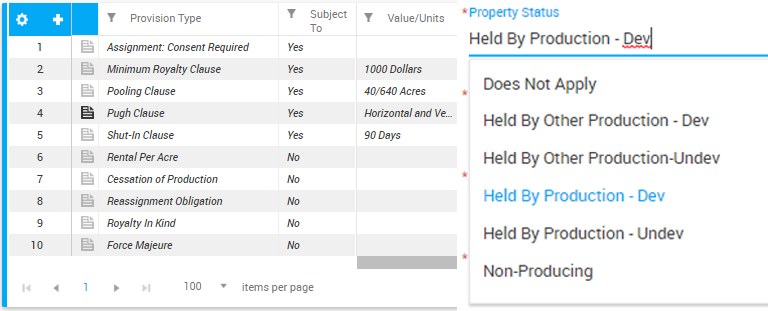 "Quorum's biggest asset for us has been an increase in time efficiency and risk reduction. Inputting and managing the leases in Quorum is much smoother and quicker, and I'm not worried about losing any information or missing critical dates. I would say that we have a 25% decrease in risk by using Quorum over our previous solution that had a lot of open data fields and Excel manipulation."
- Dylan Bercutt, Jr. Landman RPL – Arcadia Operating, LLC.
Reliable and user-friendly reporting is also a "must have" ingredient of a quality land system. Every company needs to be able to quickly log in, select a project area of leases, and run a standard report, e.g., an acreage or financial report. This saves a tremendous amount of time especially when you can trust that the data is accurate.
The standard reporting in our land solution incorporates feedback and best practices from hundreds of oil and gas customers over the last twenty years. However, each oil and gas company operates differently and may require different reports for their particular business requirements. That's where ad-hoc reporting provides additional value.
Using myQuorum Land as an example, it includes drag-and-drop reporting; you select the needed data set(S) from a list into the report builder and run the report as shown below.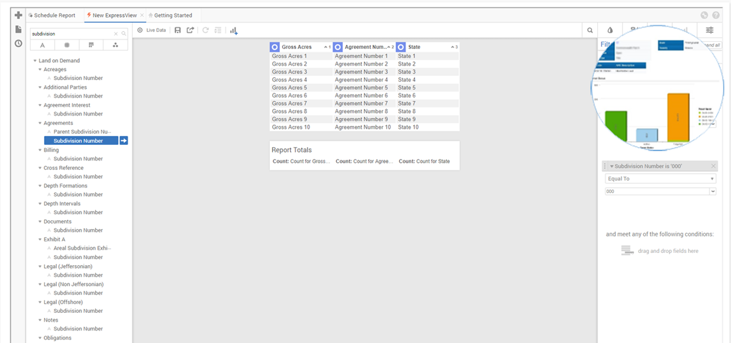 You can even improve the consumption of the report by modifying the look and feel from a bar chart to a pie chart, etc. All of this improves data sharing and decision making company-wide.
Does your land system lack automation and force manual workarounds?
As oil and gas companies strive to be more agile and efficient, automation is more important than ever. Another one of our customers that switched from the same outdated, accounting-based land software expressed frustration with not having a quicker, more automated way to get to their information. They told me how there were multiple different modules you had to go in and out of and tons of screens you had to sift through. That doesn't sound efficient to me, especially when myQuorum Land is fully integrated so you never truly leave the system and the dashboard surfaces the data you need for your role.

As shown in the image below, it surfaces all of your important information so you can see what needs your attention immediately― and you reduce the amount of time required to determine your daily to-do list.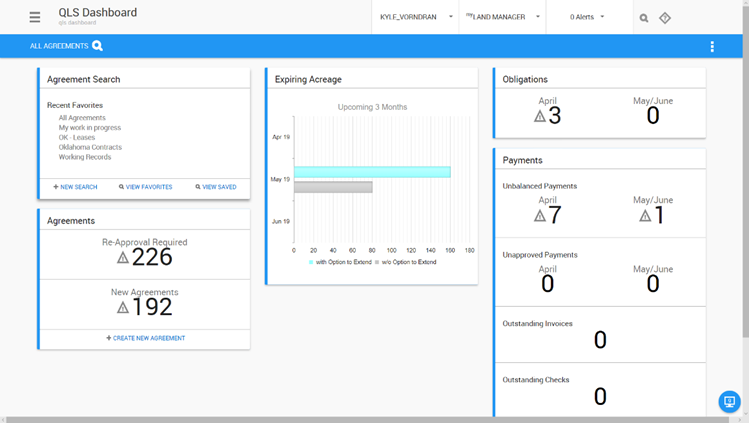 How about obligation management? Missing a payment or expiration is detrimental and can result in losing your lease. This should be done manually through spreadsheets and collaboration with colleagues; however, a quality land system should keep track of this for you. myQuorum Land includes a detailed obligation calendar where you can see a month-to-month view of your payments, obligations, and expirations as shown below.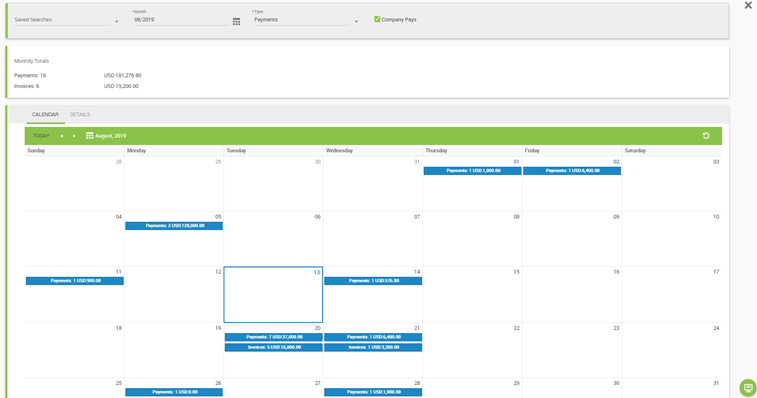 You access the calendar from the dash, click on a payment to view the details, and then make online recommendations to pay or extend a lease. Your colleague would then get the alert and be able to take action immediately.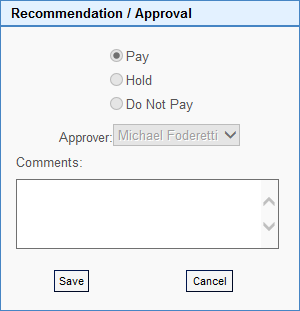 Making the switch
It's understandable to be hesitant to change land software solutions, especially when you aren't sure what all goes into it. However, it's much easier than you think when you switch to Quorum. The process is summarized into three easy steps: set up your environment, convert your data, and introduce myQuorum Help.
Set up your environment
This is a quick and easy process where we set up the environment, perform quality assurance testing, and configure any third party integrations (if  applicable)― so it's ready when you're ready.
Convert your data
Quorum works diligently to make sure all of your data from your previous system is converted over accurately. We provide a structured template for you to fill out, or we can handle that part for you entirely―whichever you prefer. At the end of the conversion, we run data reconciliation reports to ensure important information such as acreage, payments, and obligations are converted over accurately.
Introduce myQuorum Help
We of course provide software training for your users if needed, but we also introduce you to myQuorum Help―an online knowledge-sharing platform that's completely integrated with myQuorum Land.
Once you've switched to myQuorum Land, acquiring assets becomes a much easier process especially when the assets come from Quorum. With 80% of the largest oil and gas companies in North America on Quorum and over 125+ land customers of all sizes, it's more likely that your assets will be Quorum assets. This expedites data conversion tremendously and eliminates any manual manipulation or data cleanup since it is all on the same data model.
---
A quality land system simplifies land management processes, improves decision making, and reduces risk. We left you with a few questions to ask yourself to make sure that your land system includes three must-have ingredients:
Is it comprehensive and purpose-built for land management?
Does it provide instant data access, quicker data entry, and better data reporting?
Can it automate workflows?
Check out the video to hear from customers, see new demos of myQuorum Land in action, and learn more about what we're doing to keep you ahead of the curve.