The Modern Energy Workplace is about connecting people and processes with technology, but also building networks and communities that continue to drive these connections. It is our social responsibility to support these growing networks, which is why we launched Quorum's Qmunity Service Committee. With more than 700 Quorum employees across the U.S. and Canada, we've combined our efforts to make an impact as #oneQuorum. Keep reading to see what we accomplished in just a few short months.
We Contributed to the CYCLE of Kindness
For the 2019 holiday season, our committee teamed up with CYCLE, a local Houston non-profit that rewards students with new bicycles for achieving better academic performance. We built 50 bikes at the George R. Brown Convention Center and distributed them to local elementary schools whose students worked hard all year to improve their reading scores. Check out the #oneQuorum team in-action in our holiday video!
Giving Toys for Tots All We Got
The Houston Children's Charity Toys for Tots annual distribution event serves 20,000 children in need by giving away an estimated 80,000 toys. The #oneQuorum team made sure to contribute to this cause by holding a toy drive at our Houston office. When our HR director went to drop the Q's donations, she noticed the Houston Children's Charity was in dire need of volunteers to package up the toys. Several Quorum employees volunteered to give up their lunch hour to ensure deserving kids in Houston had presents for the holiday season and had a great time giving back.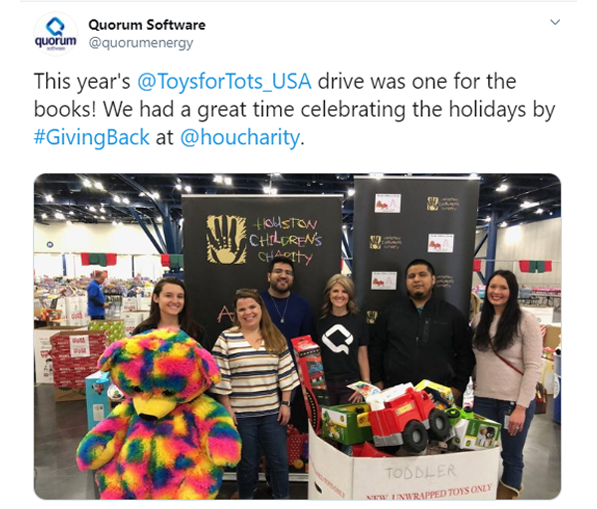 Rebuilding Houston post-Hurricane Harvey
In August 2017, the city of Houston was devastated by Hurricane Harvey, displacing over 39,000 people. Many of our customers call Houston their home, but it's also the Quorum headquarters and home to several employees. Our Qmunity Service Committee partnered with Rebuilding Together Houston to help repair homes in the local affected areas by installing doors, painting, and rebuilding different parts of the home. After 6 hours of teamwork and 8 buckets of paint, we were happy to call the renovation a total success!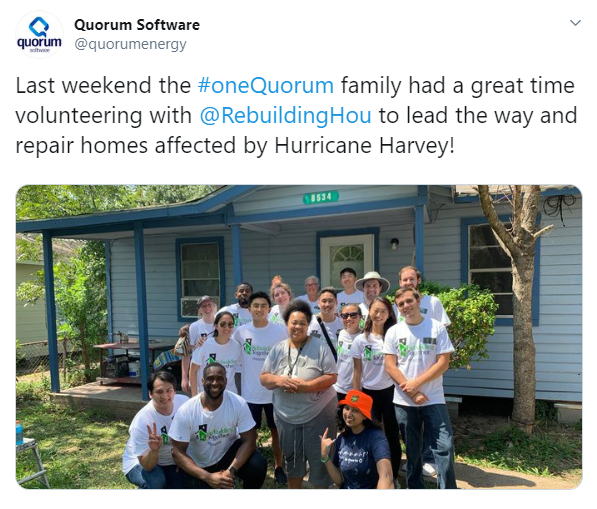 "Vision Statement: To organize and rally our colleagues in supporting local good through service events, donations, and volunteerism."

Sarah Paul Raised $116,633 for the Leukemia & Lymphoma Society (LLS)
In April, #oneQuorum held a "Pitch Day" for our coworkers to present initiatives close to their hearts. After careful SharkTank-like deliberation, the Qmunity Service Committee selected our Senior Product Specialist, Sarah Paul, who received a nomination for Woman of the Year by the Leukemia and Lymphoma Society (LLS). In honor of her late father, Sarah raised $116,633 to fund research and support patients and their families. As part of Quorum's company matching program, coworkers came together and contributed to Sara's overall fundraising efforts, resulting in a donation of close to $19K!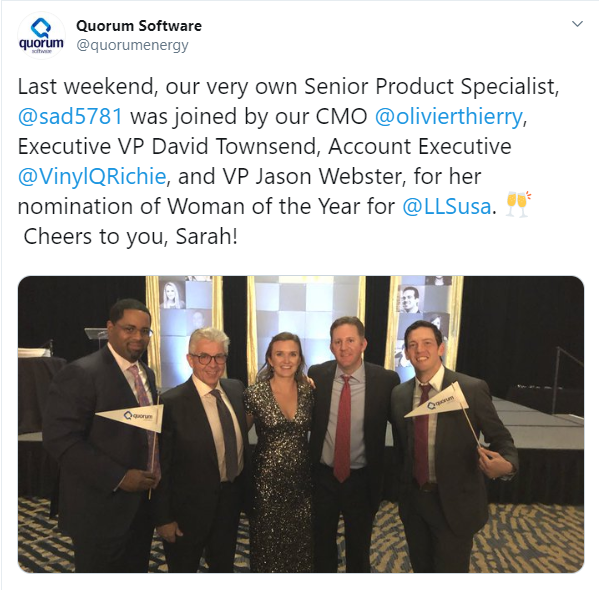 Quorum Cooked its' Way to a Cure for Cystic Fibrosis
After our acquisition of Coastal Flow and Flow-Cal, we gained more than just an incredible group of people and top-of-the-line measurement software, we also acquired their yearly traditions! The 9th Annual Crawfish & Gumbo Cook-Off and Crawin' for the Cure 5K was a success for the #oneQuorum family with our team taking the 1st place trophy for crawfish and best decorated booth. Our crew also won 5 different divisions in the 5K race - a perfect example of our coworkers "Leading the Way" to the finish line and a second helping of mud bugs, that is.
Calgarian Ninja Warriors Participated in the Calgary Corporate Challenge
Every year our Calgary office participates in the Calgary Corporate Challenge (CCC) to raise money for charities and local businesses. They showed off their impressive athleticism by completing a 10K, competing in beach dodgeball, and peddling in the Heart & Stroke Big Bike benefiting women's cardiovascular research!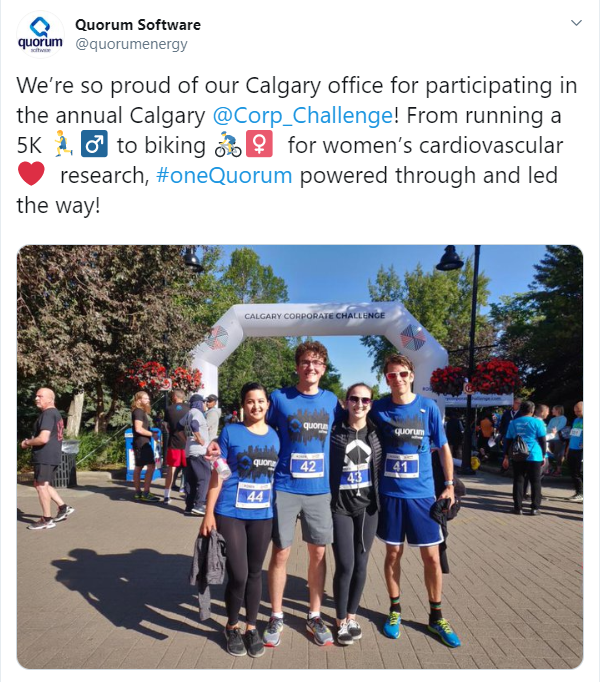 The Start of Something New for Q
After weeks of planning, we are proud to have accomplished our biggest feat of the year: Quorum's First Annual Qmunity Service Week. We chose to fight hunger across our communities and set up simultaneous food bank community service events for groups of 40 - 70 in College Station, Dallas, Houston, Austin, Denver, and even Calgary. Leading up to this, we held a design competition for the volunteer shirts, created a Qmunity Service Newsletter, put up flyers, and presented in our quarterly town halls to unite 700+ of our coworkers to volunteer at local food banks. It was an incredible experience to spend time with everyone outside of the office, breaking down barriers, and working towards the greater good as a single unit. The day of, we spent 4 hours packing, sorting, and boxing up food donations, but we also spent those 4 hours problem-solving, laughing, and creating memories to bring back to the office. We're excited to do it all over again next year, shining our light as #oneQuorum even bigger and brighter.
---

Want to be a part of the buzz? Follow us on LinkedIn and Twitter to see what the #oneQuorum crew will be up to next.