I have been in the measurement applications business for 24 years. I have worked in a wide variety of roles ranging from Database Administrator and Designer, Project Manager, Software Development Lead, and several positions in Product Management. Across my career, one of the areas I have enjoyed the most has been to interact with customers to define requirements and flesh out industry practices that result in efficient data handling processes. This has helped provide me a more well-rounded background for hydrocarbons measurement.
Given the state of the hydrocarbon industry, I wanted to take some time to discuss how having an excellent measurement process along with the right tools can make a significant operational difference. Let's backtrack a few years to 2014 for some perspective.  From 2014 through 2016, we had an oil price plunge with, at that time, unprecedented consequences to the oil industry. We have been playing catch up ever since!
2020 started out to be a promising year, where analysts predicted the industry would soar to great economic heights. This optimistic outlook was dampened by the COVID-19 pandemic that brought about global upheaval and delivered a big blow to the global economy and in especially the oil and gas industry. The price of natural gas hit rock bottom and is the lowest it has been in two decades. It is well-known that our industry is cyclical. We are officially in a lean cycle, and energy companies are cutting capital expenditures, reducing personnel, and looking for ways to implement more efficient processes.
It comes as no surprise that hydrocarbon measurement professionals and departments across the industry are in dire need to do more with less and achieve better results from limited resources. That means focusing on the right priorities and activities to bring about tangible results and, most importantly, continuing to create value for the organization. As always, our mission is to help our customers meet financial and regulatory requirements with a complete suite of measurement applications that gather, validate, manage, and report on measurement data.
At the core of the suite of applications is FLOWCAL. And this is where I want to focus the rest of my post on the latest FLOWCAL release, version 10.2. We have invested heavily in improving performance and application stability in critical areas. We have accomplished this with:
An increase in automated and manual tests as well as higher data loads with larger test databases;
A sizeable effort in defect backlog reduction to ensure stable releases that are ready to meet our customer needs and expectations;
Instrumentation to log data that identifies potential performance bottlenecks and allows us to tune performance in highly utilized processes and screen functions
Liquids measurement is the most diverse, expansive, and challenging area of hydrocarbon measurement. With that in mind, FLOWCAL continues to grow and evolve its liquids measurement capabilities to eliminate manual processes, identify efficiencies, and handle data across a large variety of processes. At the core of a robust liquid measurement system is the ability to validate and correct each barrel that flows through it. FLOWCAL continues to extend the vast library of industry-supported, liquid focused calculation, and correction tools to meet the challenges of this diverse part of hydrocarbon measurement.
The latest FLOWCAL release contains exciting enhancements in the areas of liquid measurement extending vapor space calculations to cylindrical tanks. This is in addition to the existing vapor space calculations for bullet and spherical tanks. Customers can now have better measurement and balancing that includes vapor space in cylindrical tanks and achieve more precise inventory tracking. Customers also have greater versatility with automatically applying meter proves to multiple meters reducing manual labor and making data processing more efficient.
On the security front, users can leverage single sign-on to reduce the friction of getting into the application. Once a user is logged in to the Windows desktop or Citrix portal, the user simply clicks on an icon to launch and use FLOWCAL.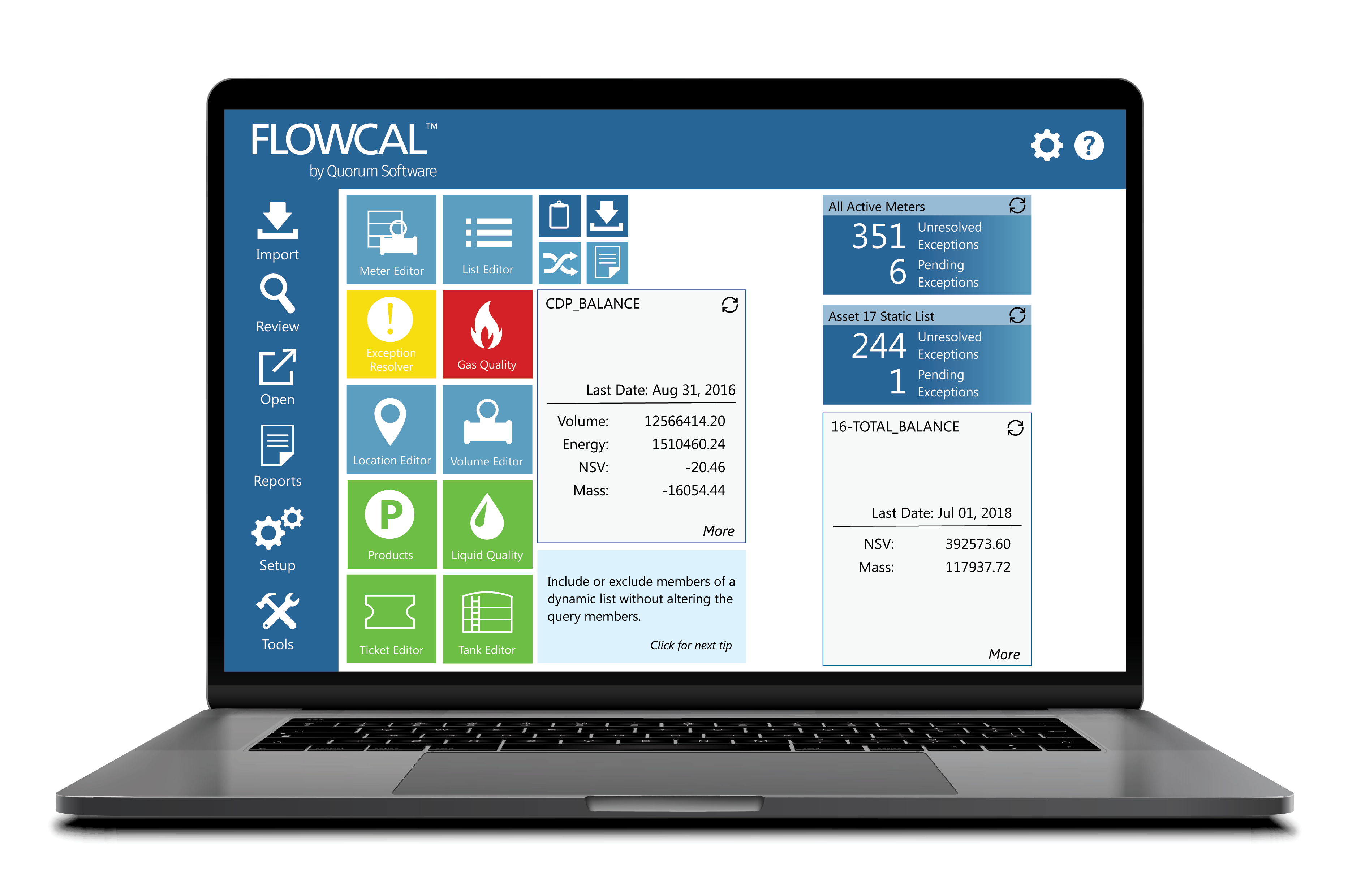 Looking ahead, we continue to evaluate our current offerings and gather valuable customer feedback to make sure FLOWCAL continues to be the best measurement application. We are also evaluating highly utilized features in the PGAS measurement application and folding them into FLOWCAL. As a result, you will see enhancements in our upcoming releases centered on archiving, calculated composition, improved visibility into the closing process, and more. Stay tuned for more information as exciting and powerful releases become available!
Watch our webinar featuring Measurement Product Director, Brian Sowell, to experience the new enhancements for FLOWCAL 10.2 and understand how they benefit you.