Personnel Logistics
Energy operators need a safe, efficient and collaborative solution that will optimize logistics for all the stakeholders in the industry.
Proven Personnel Logistics Platform

Manage end-to-end personnel logistics with a proven platform for Planning, Transportation and Reservations Management, check-in and dispatch, request and approval, POB Management.
30
Deployed in Countries Worldwide
30M+
Global Passenger Bookings
3.3M+
Self-service Check-ins
Features
Planning
Enables you to make operational and drilling plans, including different phases and activities to schedule personnel based on demand. You can also plan their shifts and how many people you have at any given time. Further you can even plan how to transport everything to site.
Transportation
Covers functionality required to do all sorts of Transportation Management, be it for Flights, Helicopters, Vessels or other Vehicles. Also included in this Module you will find KPI Dashboards, Map, Traffic Log and DFR Control.
KPI & Reporting
Covers functionality to do your required operational reporting, divided into the categories of Traffic, Planning, Economy, Offshore/Onshore, Training and Administration, but naturally focused on Manifests, POB Reports, Mustering Reports etc.
Personnel Logistics
Covers functionality to manage Personnel and Logistics, including rota planning, making Reservations for their whole itinerary out to the site, Check-In & Dispatch, Request & Approval, Waiting List/Standby and more.
POB & Asset Management
Covers functionality for managing of your complete Personnel on Board – be it offshore or onshore. That is done through managing of Arrivals, performing allocation Room, Bed, Lifeboat and Emergency Team and Roles. Important is also the features for doing Lifeboat-and Emergency Team forecasting.
MyDaWini App
The traveler's app, where the personnel may find information about their upcoming and historical travels, perform pre-check-in update personal info, make a reservation request, check and upload certificates. 
Get the 360° View of Your Logistics Operation
DaWinci offers a complete overview of your logistics supply chain, enabling collaboration, automation and decision support optimization. This is available across all platforms and delivered through state-of-the-art cloud.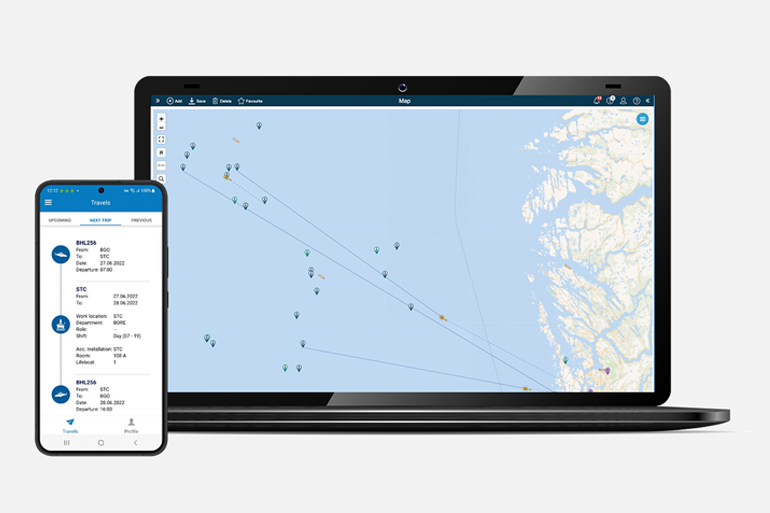 Benefits
Efficient Logistics Management
Make logistics easy - reduce costs by automating the end-to-end processes and removing dependencies on spreadsheets, emails, and phone calls.
Industry Collaboration
Enables collaboration with all industry stakeholders in one tool, sharing resources and distributing work across the logistics supply chain.
Accurate Personnel Control
Achieve full control of the personnel record, HSE compliance and POB which is crucial for an emergency.
Integrated Logistics Management
The DaWinci product brings together the end-to-end Personnel Logistics, Personnel on Board (POB), and Cargo Logistics in one common tool.