Utility & LDC
Management
Combines gas supply, transportation, storage, and retail choice management with one integrated solution for local distribution companies.

All-In-One Software That Helps You Deliver
Combine gas supply, transportation, storage, and retail choice management in one integrated solution for local distribution companies. 
14M
End-Use Customers Across
39 Distribution Systems
100s
Energy Companies, From Small Business
to Supermajors, Rely on Quorum
10k
Users Streamline Their Business
With My Quorum Every Day
Features
Acquisition and Supply
Reduce operational risk with improved visibility into acquisition and supply with near-real time supply and load data.
Transportation Management
Maximize capacity, manage imbalances, and maintain regulatory compliance with real-time information.
Contract and Deal Management
Simplify contract or deal entry, and confirmation processes with automated workflow and delivery.
Reporting
Access and present the information you need, when you need it, in order to gain insight into daily and monthly operations.
Customer Portal
Increase customer satisfaction and streamline shipments with an all-in-one portal for shipper/operator interactions.
Streamline Operations to Ensure the Energy Never Stops Flowing
Trust your operations to the all-in-one software for acquisition, supply, transportation, and distribution.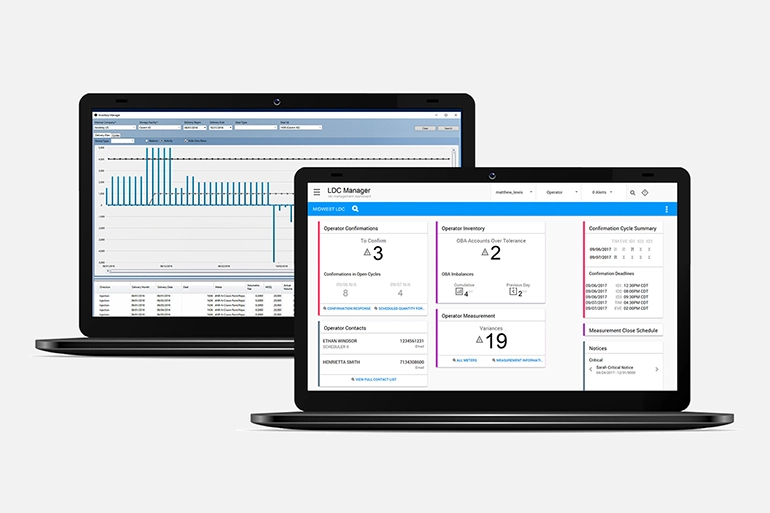 Benefits
Efficiency and Control
Simplify, automate, and optimize complex business processes. Minimize risk and ensure compliance with a complete audit trail.
Manage Customer Choice Programs
Promote transparency in the acquisition-to-distribution lifecycle with an all-in-one portal for large customers and deregulated markets that enables online self-service.
Simplify Operations
Simplify cross-department operations with transparent workflows, pass-through automation from acquisition to distribution, and integration with customer information systems and tools.
Reduce Operational Risk
Reduce risk while improving decision-making with reporting that provides visibility into changing supply and load dynamics, alerts stakeholders when action is required, and delivers real-time, market-driven risk and credit intelligence.
DTE Energy's Journey to the Cloud
In order to remain competitive and efficient, companies are embracing digital capabilities to integrate and automate business processes, and improve access to data. Although no two journeys are the same, DTE Energy share's their challenges and experiences that lead them on their digital transformation path.