On Demand Production
Operations
Empower your teams with complete visibility into your production operations. Automate data flow from the wellhead to the back office with On Demand Production Operations, an integrated solution combining SCADA, field data capture, production allocation, and regulatory reporting.
Automate Dataflow from the Wellhead to the Back-Office
Advance production with one software solution that can accurately track your production performance, lower LOE and reduce downtime all in one place. On Demand Production Operations helps you avoid additional G&A spend on acquisitions resulting in lower costs per BOE.
ONE
Place for All Your Production Data
90+
Customer Satisfaction Score. Our Customer Success Team provides industry experts that exceeds CSAT benchmarks every year.
ZERO
Affordable, Straightforward Pricing
with No Extra Fees
Features
On Demand SCADA
Collect data automatically from flow computers and feed it directly into your production system.
Monitor Wells in Real-Time
Access critical well data from anywhere and share with field users.
Collect Field Data
Intuitive off-line capable iOS app to empower your operators to review SCADA data and enter manual field readings, downtimes, run tickets and custom forms.
Build Performance Dashboards
Full access to your data so you can create your own dashboards to gain business insight.
Find Exceptions
Quickly find and fix bad data for reporting using built-in validation tools.
Automate Reporting
Set any report to automatically send to individuals and distribution groups for your company and partners.
Set Custom Alarms
Set alarms based on real-time data to respond to issues faster.
Manage Allocation Rules
Perform daily or monthly allocations for faster month-end close cycles.
Visualize Facility Diagrams
Visualize product flow and application diagrams networks with interactive drag and drop tools.
D&C Integration
See drilling, completion, workover activity and costs from On Demand Well Operations and how it affects well performance. 
Drive Predictable Performance With One Complete Solution
Respond to issues faster, deploy field personnel more efficiently, and streamline month-end allocations with an integrated view of your production operations.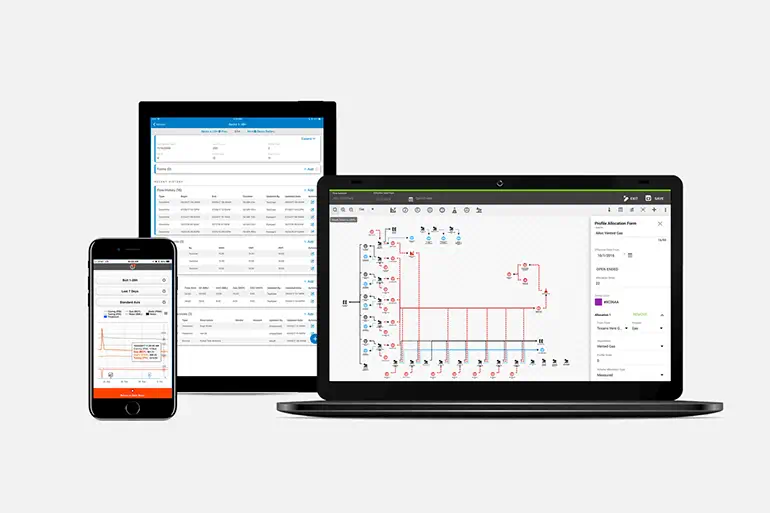 Benefits of On Demand Production Operations
Produce Trustworthy Results
Understand what drives well performance with a full view of production volumes, downtime, and field activity.
Do More With Less
Respond to issues quickly with real-time data, configurable alarms, and visualizations that let you review large amounts of data quickly.
Operate More Wells with Less Complication
A single user experience across your production operations saves you the time, frustration, and redundant costs that come with managing multiple systems.
Have Confidence in Your Allocation Results
Get full transparency with our integrated allocations engine enabling you to see inputs, outputs, and formulas used for every allocated volume in the system.
Fast Onboarding with Standardized Import Templates and a Support Team That Can Get You Up and Running in Days
"Having a team that understood the software and the real-world application made this project easier than past acquisitions."
The right mix of software, process, and industry knowledge delivered results 4x faster than previous acquisitions.