Our first online mixer for LDCs featuring ONE Gas, PwC, and Marquette Energy Analytics
Quorum has been supporting Local Distribution Companies (LDCs) with our Supply and Distribution software for over 15 years. We know that LDCs are a well-connected group of businesses and individuals that typically meet regularly at various conferences to discuss trends, programs, prices, and updates. But with all of the cancelled in-person events this year, this group couldn't meet like they otherwise would have. To help connect everyone, Quorum partnered with Marquette Energy Analytics and found an alternative way to bring friends and colleagues together to network and learn. Last Thursday, August 27th, we hosted our first online LDC mixer event where we held an hour of discussion around "Digitizing Gas Forecasting and Operations". Over 40 companies across the country participated in the mixer and we received very positive feedback on the topic and content. We even had a resounding request for more of these events in the future!
Our main goal for this event was to talk about how a utility's business and their customers are currently being affected by the shift in gas supply and demand brought about by the pandemic. In this current environment, where so much uncertainty around energy supply and demand exists, and when "work from home" has become the new normal, LDCs are seeing dramatic shifts in having to adjust appropriately. It is now more important than ever to have optimized, dynamic business processes in place and to utilize technology to overcome these challenges.
As part of our program, we had Tom Quinn, President of Marquette Energy Analytics, present on forecasting models that LDCs across the nation are using to predict demand. Tom showcased a lot of interesting data on how unexpected energy usage from the pandemic can be detected and how different areas around the country have responded to this impact. He discussed how companies can use the digital information they gather from their measurement and weather systems, and how to mine that data to make smarter business decisions. 
We then invited a panel of experts – Danna Tow and Rusty Carroll from ONE Gas and Austin Morris from PwC – to discuss how load forecasting models can be seamlessly incorporated into different business processes to further support better and timelier decisions. Our guest speakers highlighted the best practices and technologies they have implemented to overcome the challenges of volume volatility and working remotely, and how they are able to be more responsive to their customer's needs now and into the future. We also heard about ONE Gas' overall readiness and preparedness for disaster situations and how accurate load forecasting is an integral part of their plans.
---
The following Q&A has been edited for length and clarity.
Marc Spitzenberger (MS): Based on the information that Tom presented, how does ONE Gas use your forecasted data across your business, from both an operational standpoint and a financial standpoint? How do you communicate it to your customers and gas control operations?
Danna Tow from ONE Gas: The forecasted data we receive helps us determine our monthly baseload needs and provides a view on daily usage to make appropriate decisions based on current business cycles. The more information we have, the better it is for all areas of our business, including finance and operations. On a daily basis, we have stronger communication between our gas control and supply teams because they're able to see our forecasted data and compare it with our historical usage.
MS: Thanks, Danna. Access to information is so important for companies right now. I'd like to get a sense of what best practices there are to manage this unexpected energy usage. Austin - what tools and integrations have you seen at PwC that are key to support the forecasting process?  
Austin Morris from PwC: When we talk about leading best practices, it's really about having good systems and processes in place across the organization, such as measurement, operations, scheduling, and customer/work management systems, etc. The goal is to be able to react and respond based on what the forecast information is telling you. A good example is that when we look at cities with growth and new construction pre-COVID, they were tied into the work management process, so they knew when new meters were coming online and they could manage and adjust their supply to support that. Now that we're slowly coming out of the initial COVID-period, people are worried about the ramp up and whether they have adequate gas supply. Even though their operations are online, companies need to think about the back-office impacts (credit, exposure, etc.) and whether they have the technologies to be dynamic and flexible to handle the volatility.
MS: Those are interesting points, and as we look ahead, with businesses, restaurants and schools beginning to reopen and the heating season coming upon us in just a few short months, I'd like to ask Rusty what effects are you and the ONE Gas team are anticipating for gas supply and demand?
Rusty Carroll from ONE Gas: We're anticipating some schools to fully or partially open, with some at-home learning. We're thinking that businesses might only open with 50% occupancy over the next 3-6 months. But with schools and offices back in operation, they really will be heating the whole building. I'm anticipating seeing a slight increase compared to the last 3-6 months. Looking at our normal daily load profile, I think some of the daily curves/peaks will flatten out throughout the day, but that the overall load will be higher than we've seen in the past. We're asking our supply teams to plan for a bit more supply to account for people that are heating more spaces at the same time.
More than ever before, there has been a big focus on digitalization across the energy value chain. Companies that were able to adapt quickly to a remote working model encountered less disruption and could react and respond more swiftly to new information. As we enter into the heating season in a few months, we'll likely continue to see some different patterns compared to historical ones. It'll be even more important to have reliable technology and systems in place to maintain connectivity, ensure safety, manage imbalances, and reduce operational risk. For more information on how Quorum can deliver greater visibility into your utility operations and provide timely information at your fingertips, visit our website.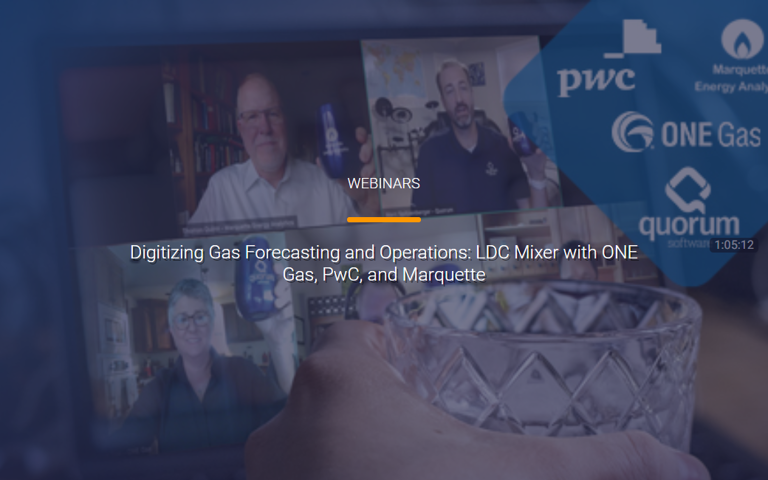 To hear the full discussion from our panelists, watch the webinar.