Quorum Software Announces EnergyIQ 2020.1
Latest version of well master data management solution furthers how E&P companies can rationalize and integrate data for better business outcomes
HOUSTON, November 10, 2020 – Quorum Software (Quorum), a Thoma Bravo portfolio company and the leader in digital transformation for the oil and gas industry, announced today that it has released 2020.1 of EnergyIQ by Quorum Software (EIQ), a well master data management solution. By working closely with leading E&P companies, Quorum delivers a robust and flexible data platform that accelerates digitalization initiatives and provides a 360-degree view of a well.
EIQ provides a full suite of master data management tools for managing and integrating internal and external data sources -- including land, accounting, drilling and completion, and document management solutions -- to support various business needs. E&P companies standardizing operations on a Quorum-EIQ combination will shorten time to value by leveraging pre-defined integration capabilities, while also gaining access to a growing assortment of bi-directional automation capabilities.
"In addition to numerous enhancements, this update helps set the foundation for executing Quorum's larger vision to help Upstream companies reimagine how they operate," said Tyson Greer, Executive Vice President & Chief Product Officer at Quorum. "From data and workflow integrations and automation to advanced visualizations, analytics and mapping capabilities, customers will benefit from our aggressive investment in helping manage the business by relying on a centralized and trusted source of data."
The update includes dashboard capabilities, UI and map enhancements, and new visualizations through industry-first integrations with Quorum's upstream suite. The coupling of Quorum's applications with EIQ will help customers:
Make better drilling, completion, and workover decisions by connecting the well master with Quorum's transactional, operational and accounting solutions.
Streamline access to relevant well information, including lease, well files, and other documents stored in DynamicDocs and direct linkage to WellEz' wellbore diagram.
Better understand their current assets by pulling in GIS and Land information from Quorum and displaying via EIQ's native visualizations.
As part of Quorum's ongoing efforts to help energy companies simplify and automate data management challenges, the company will hold a webcast on November 18th, in partnership with Ember Resources, to demonstrate how operators are applying advanced search technology to integrate their suite of well lifecycle applications and deliver a 360-degree view of the well.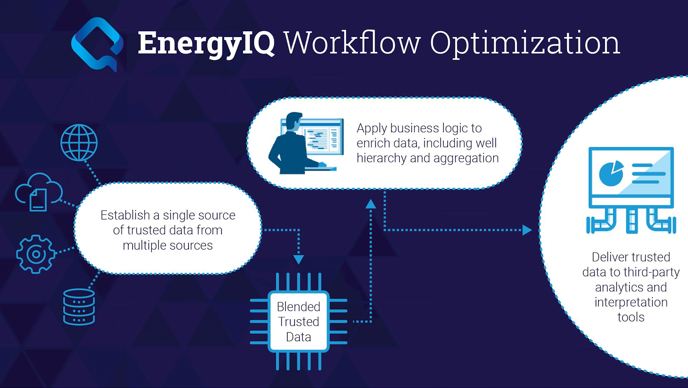 About Quorum Software
Quorum Software offers an industry-leading portfolio of finance, operations and accounting solutions that empower our customers to streamline operations that drive growth and profitability across the energy value chain. From supermajors to startups, from the wellhead to the city gate, energy businesses rely on Quorum. Designed for digital transformation, the myQuorum software platform delivers open standards, mobile-first design and cloud technologies to drive innovation. We're helping visionary leaders transform their companies into modern energy workplaces. For more information, visit www.quorumsoftware.com.