NAPE Summit is known as the place where deals happen, and this year's show did not disappoint. Conversations with prospects and customers centered around improving current solutions and A&D processes.
At the Quorum booth, I demonstrated how our land software improves A&D processes for Land VPs and managers by reducing risk. Below are the top 3 benefits of using myQuorum Land Management for A&D:

Simple Data Conversion and Onboarding
When you acquire assets in bulk, the first thing you need to do is store, review, and manage all of the lease information. Outdated software or the manual alternative (i.e., paper files), increase risk as you make acquisitions.

I spoke with someone at NAPE that was dissatisfied with their current software solution from a user experience and data management perspective. Long story short, they plan to switch to Quorum because an impending acquisition is using our software and their colleague used Quorum at a former employer and liked our ease of use. They asked about the data conversion process to see if they should make the switch before they close an impending acquisition. I recommended they do it before, so the data comes to and from the same software vendor, reducing risk and saving them onboarding time on day one. This way, the data is in the same model and structure which makes for a seamless transfer and mitigates any risk associated with data mapping or cleanup.
Also, from my NAPE presentation, I showed 70% of the top US oil and gas companies use our land solution to prove that the more acquisitions they make in the future, the more likely they would reencounter Quorum assets. Our customer, White Rock Oil & Gas, would likely agree:
"We looked no further than Quorum as our newest acquisition was already using Quorum software and spoke very highly of it. The reputation and ease of use of the software reinforced the notion that Quorum was the best option for us."

—White Rock Oil & Gas
Maximum Oversight and Control of Your Asset Data
Getting your lease information organized and loaded into a system is part of the data management process. Next is ensuring control of that data by having proper data validation methods in place to provide clean data both in and out. For instance, if someone makes a change to a lease, how can you track the difference, so you don't end up with conflicting reports? It would be best if you had audit trails to know who, what, and when that change was made. Having a full audit history also helps with compliance, but that is a separate topic entirely. See Figure 2.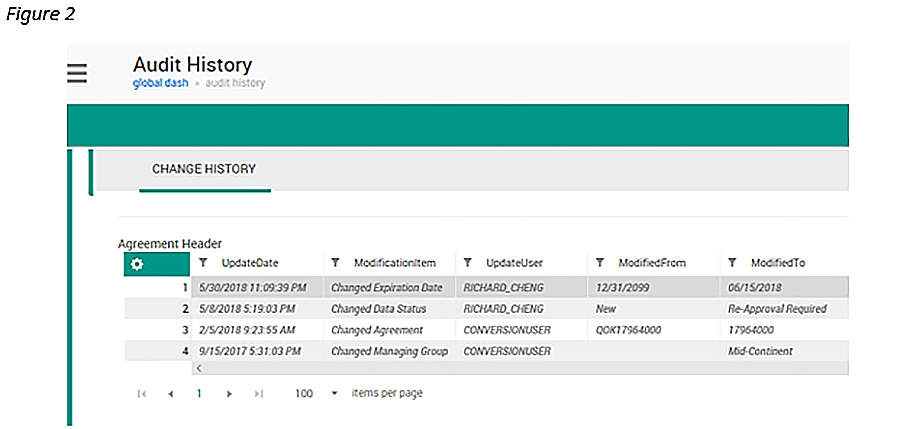 Another example of data validation is an automated notification. For instance, rules to reject an incomplete approval or one with data errors can help you address issues before they even get entered into the system. Eliminating data errors that could lead to missing an obligation or inaccurate valuations. Our customer, Black Mountain Oil & Gas, knows the importance of data validation:
"Our previous solution lacked thorough data validation. Land On Demand, however, provides maximum oversight  and control of our asset data."
—Black Mountain Oil & Gas
Instant Access to Your Lease lnformation When You Need it
Have you ever asked or been asked: "What's our acreage position in this formation and do we have any expirations coming up?" During divestitures, this is a common question that needs to be answered accurately and on the fly. To do this, you need quick access to clean, reliable data. Land VPs and managers should always know the company's acreage position and be able to track all payments, obligations, and expiring acreage easily.
Quorum simplifies this for customers through our intuitive search capability. It allows you to quickly pinpoint specific lease information, such as ownership by depth formations, and run detailed reports or make an agreement status change to all of the selected leases at once—further reducing the chance of error.
On the NAPE show floor, I demonstrated how this capability could simplify the divestiture process while reducing risk. Our customer, Staghorn Petroleum, LLC, highlights the importance of this:
"Now, we can clearly track depth and formations online and export a calculated report which is vital when doing allocated value."
— Staghorn Petroleum, LLC
Conclusion
Manually tracking your leases or using old software increases risk during A&D projects. Data conversions, controlling your data, and instant access to lease information are likely top of mind for executives and managers of land teams, and while this blog barely scratches the surface, we are always here to help with a more in-depth discussion or webinar. In the meantime, I cover these and a few more areas in my talk from NAPE which you can get to in the link below. Thanks for reading and best of luck in your acquisitions and divestitures.